Cornell Notes
Difficulty: 3 (rated by author; 1=easy &lt--> 5=difficult) Views: 2650
Module: Teacher for Learning

Try watching a TED talk or conference keynote video yourself to practice your own note-taking skills using Cornell Notes.
Split your page so that it looks like Cornell notes (see image below)
Take notes that make sense to you in the right-hand (two-thirds) space.
When you are done, use two different colour markers to highlight key points and new or specialized vocabulary. Use the left-hand (one-third) space to rewrite those key points and vocabulary with explanatory text.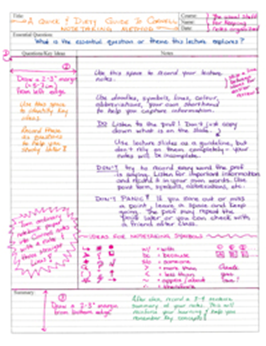 ---
This activity is part of the Organize Knowledge section of the Teacher for Learning Module.